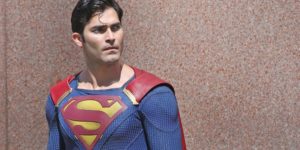 Though only visually hinted at, the character of Superman has not been fully shown on the television show "Supergirl" until now.
Tyler Hoechlin ("Teen Wolf") has been cast on a recurring basis as the red and blue icon for season 2 of girl of steel.

I would think that if his portrayal proves successful that it might lead to his own show. I would love to see Superman on a full time basis on television once again.
The fact the Warner Bros. is allowing this character to appear on the small screen again, considering all of their big screens plans with the DC Universe, seems like a miracle. But it was probably a smart move considering how dour the character has been portrayed in Zack Snyder's cinematic interpretation.
Who knows? Maybe Batman will make the move to the small screen next.

In any case, since Hoechlin has begun filming his scenes for the show, some pics and video have been popping up all over the place. You can find some of the pics below, along with some video clips of him in costume on set.
"Supergirl" season 2 premieres on the CW on Monday, October 10th at 8pm. (And don't forget – since the show is moving from CBS to The CW, you may have to reset the program on your DVR.)