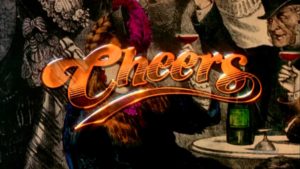 "Cheers", which ran on NBC from 1982-1993, is considered to be one of the best sitcoms in television history. The show centers around ex-baseball player and recovering alcoholic Sam Malone (Ted Danson) who runs a Boston Sports bar. The first five seasons focused on his on-again, off-again romance with intellectual snob Diane Chambers (Shelley Long), a waitress at the bar. The remaining six seasons focused upon Sam's friendship with new bar manager Rebecca Howe (Kirstie Alley) and gave the other wacky characters that populated the bar more to do.
I just recently viewed the entire series again, which I hadn't seen since its original run. And surprisingly, it held up almost perfectly. With the exception of the fashion choices of the '80's, the humor remained spot on. And in this writer's opinion, the show remains funnier than almost everything that has come since, bar "Seinfeld."
When "Cheers" first premiered back in '82, it wasn't very well received. It came in as almost the lowest rated program for the season. But the network believed in the show, specifically NBC President Brandon Tartikoff and the show garnered a second season. From that point, it began to really take off, landing in the top ten for most of its run, and even landing in the number one spot for one of its seasons. If "Cheers" was to have premiered today, with the way things now work, it would have been canceled after 3 airings. But things worked a bit differently back then. The only reason the show ended after eleven seasons was because Ted Danson had decided to leave and move on to other things and the creators didn't want to continue without the character of Sam Malone.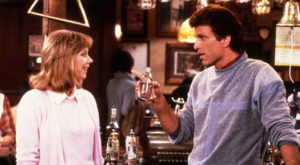 But almost midway through "Cheers" run, a situation arose that might have prevented the show from continuing from even that point. Its female lead, Shelley Long, had decided to leave the show. A big part of its success was the chemistry and back and forth rivalry between the characters of Sam (Danson) and Diane (Long). The show was going to have a quite an uphill battle to retain not just its audience, but its creative spark.
Enter Kirstie Alley, a relative unknown (unless, of course, you're a Trekkie). She turned out to be comedy gold. The show reinvented itself into something even better then it once was (though I realize that's a matter of opinion). And it chose a very smart path – it didn't try to replicate the romantic spark that had existed between Sam and Diane. It created something new and different. The leads became best friends instead of romantic partners (though they did touch upon that slightly in later years) and gave more depth to the other characters in the bar which only helped to bring the show to new comedy heights.
With that said, let me bring us back around to the main point of this article. When Shelley Long was to the leave the show, the creators wanted to keep it a secret up until the final episode of the season aired. And since the show is filmed in front of a studio audience, it had to get creative in order to keep the true ending a surprise so they shot an alternate ending to that episode.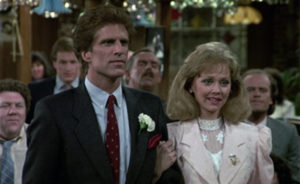 So in the fifth season finale, entitled "I Do, Adieu," Sam and Diane were to finally marry. In the episode that aired, long time wannabe author Diane gets a chance to have her novel published, but she has to go away and finish it. Sam decides that she will never be happy if she doesn't pursue her dream. So while at the altar, they decide to postpone the wedding. Diane leaves Cheers, both her and Sam knowing deep inside it was never meant to be.
As for the alternate ending that was shot, Sam and Diane actually married and remained together. In the clip you're about to see, it's almost as if it's a "Cheers" from an alternate universe. For those that loved the Sam and Diane romance, it's quite sad in many ways to see what could have been.
Ultimately, shooting the alternate ending didn't really matter, though, because news of Shelley Long leaving "Cheers" leaked long before the episode aired.
Long only returned to the character of Diane Chambers on "Cheers" one other time – for the series finale, entitled "One for the Road." In that episode, Sam and Diane reunite, only to realize once again that they're not meant to be together.
So now it's time to enter the alternate universe where Sam and Diane lived happily ever after (and most likely fought every day).