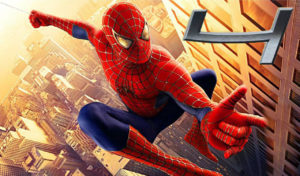 Before Sony rebooted "Spider-Man" back in 2012 Sam Raimi was in the process of making another sequel with Tobey Maguire and company. But for various reasons, Raimi and Sony parted ways on the project and Sony decided to reboot the property with Marc Webb as director and Andrew Garfield starring in the titular role. I found that reboot to be much less enjoyable than the Raimi versions. And the sequel to the reboot, "The Amazing Spider-Man 2," was just "Batman and Robin" bad and almost a franchise killer.
Raimi (along with most of the fans) was unhappy with the outcome of "Spider-Man 3." I believe the usual "studio interference" was one of the reasons given for it's inferior story quality. I just recently re-watched all of the films in the Raimi series and there are some really baffling scenes that made it into "Spider-Man 3". The things that worked, really worked. And the things that didn't, really didn't. It was a great disappoint considering how superior the first two films were. And for many, "Spider-Man 2" is still considered to be one of the best superhero films to date.
So when it came time to make another film, Raimi had hoped to set things right and end the series on a high note (or at least continue them on a higher note). But again, for various reasons, that wasn't going to be possible and he bowed out.
So below are some of the storyboards from "Spider-Man 4" showcasing some of the possible scenes we would have seen had the movie moved forward. Of special note, Bruce Campbell was apparently rumored to play the villain Mysterio, a character I would have loved to seen on-screen. Maybe someday we'll finally get to see that villain, possibly in the new Tom Holland "Spider-Man" reboot.
The other (and main) villain we would have seen was The Vulture. But for what it's worth, my understand is that we will get to see an incarnation of this character in the new "Spider-Man: Homecoming" film due out next year.
The following storyboards come from filmmaker Jeffrey Henderson's website . I've posted some of them here. To see all the others, visit his site RIGHT HERE!