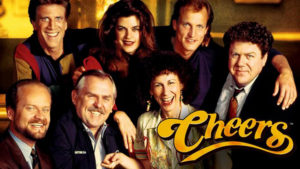 Following up on my previous post from the other day concerning the sitcom "Cheers," here's a couple of interesting nuggets you may not have known.
Back during the first season, the show produced a twelve minuted episode entitled "Uncle Sam Malone" for the U.S. treasury in order to sell U.S. savings bonds. It never aired on television or appeared on the 1st season DVD set. It was only ever played at savings bonds drives. But you can now view the episode below.
Also, back in 1983, a short scene was produced for "Cheers" that played during the Superbowl pre-show. It was never aired again and also never appeared on any of the DVD sets. You can view that below as well.
And as an added little bonus, I'm adding some video from "The Tonight Show" that aired live after the "Cheers" finale in 1993. Needless to say, the cast of the show had one too many that night while celebrating the show's final episode. It's actually quite amusing.
So, without further delay, here's some "Cheers" you may not have ever seen.