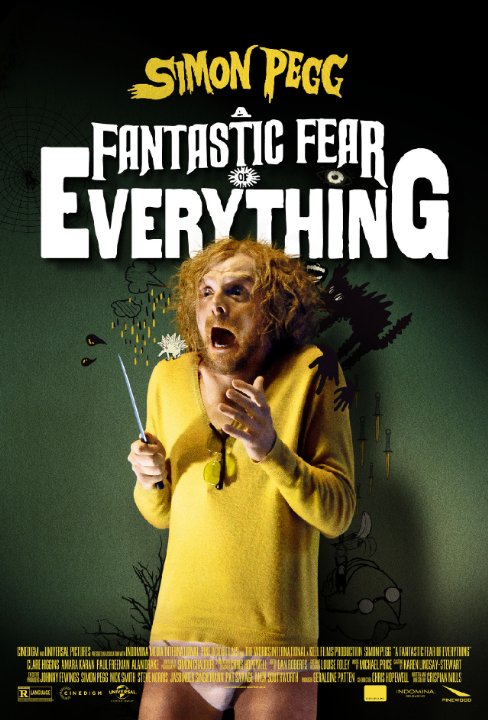 A Fantastic Fear of Everything
2014-01-22 08:33:57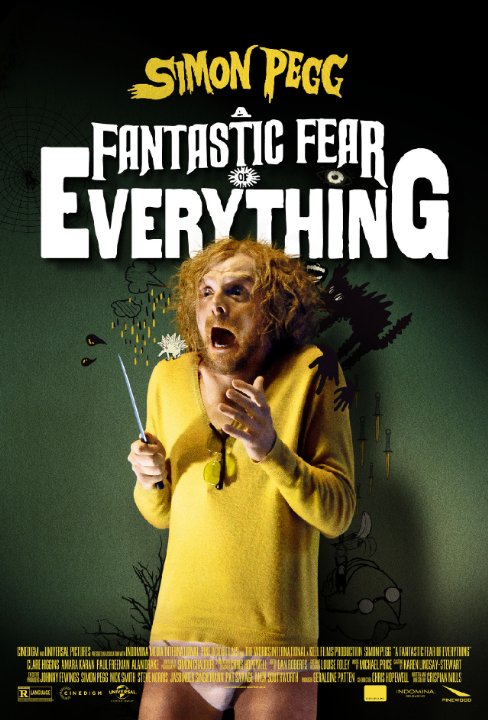 UK Release: Friday, June 8, 2012 –
US Release: Friday, February 7, 2014 Limited –
Comedy
Ingredients
Stars: Simon Pegg, Amara Karan, Clare Higgins, Alan Drake, Paul Freeman, Kerry Shale,
Zaak Conway, Tuyet Le
Directors: Crispian Mills, Chris Hopewell
Writer: Crispian Mills (screenplay)
Based on the novella "Paranoia in the Launderette" by Bruce Robinson
Instructions
Jack (Simon Pegg) is a children's author turned crime novelist whose detailed research into the lives of Victorian serial killers has turned him into a paranoid wreck, persecuted by the irrational fear of being murdered.
When Jack is thrown a life-line by his long-suffering agent and a mysterious Hollywood executive takes a sudden and inexplicable interest in his script, what should be his 'big break' rapidly turns into his 'big breakdown', as Jack is forced to confront his worst demons; among them his love life, his laundry and the origin of all fear.
Notes
A Fantastic Fear of Everything (a clunky and not really accurate title) is a dreary exercise in storytelling. Though it's listed as a comedy, I would have mixed it into a separate category and named it 'manically awkward.' Simon Pegg plays a way too over-the top character (name Jack – points for originality) that is just so manic throughout much of the film that it's just a bit hard to watch.
We start the film at a place where Jack is already terribly on edge. He's researching serial killers for a story he's writing. We are supposed to believe that this is the reason he's so fearful (because he psyched himself out?). He thinks someone is out to kill him though no real threat is presented at this point. Aside from that, the movie sets up his fear of Laundromats. I didn't really buy into the psychological reasoning behind this either. If Jack's erratic behavior was drug induced, then I might have more easily bought it.
I think the film would have been better off showing us the build up to where it first starts off. Let us see Jack mentally fall apart. Let us see him develop this fantastic fear of everything (which is stretching it because he doesn't have a fear of everything). Maybe then, we the audience might be able to relate to his journey. As for the ultimate resolution, I do see what the filmmakers were shooting for but didn't really agree with its execution.
The movie had an interesting concept, but if you peel that away, you'll find that it doesn't have a good enough story to pour into a full film. The fact that the main character is named 'Jack' just shows there is no real originality here. Even visually, it's all been done before. Even the love interest introduced later in the film was formulaic. I will say this though – Simon Pegg definitely went balls to the wall and gave us everything he had to try and make it work. Too bad he didn't have better material to work with.
On the up side, thanks to this film, I now know how to do a load of laundry.
Step 1: Open the Door. Step 2: Get the Clothes In. Step 3: Shut the Door. Step 4: Place the Money in the Slot. Step 5: Push Your Slot In. Step 6: Add Detergent
Know It All Joe http://www.knowitalljoe.com/
Side Note * I do realize this film played in the UK a year and a half ago. I am only posting a review now because it has recently become available for digital release in the U.S and hits theaters for a limited run in a couple of weeks (February 7, 2014).
Read more on "A Fantastic Fear of Everything" Recipe Card Movie Review…